Want to start your own business?
Download #ChickList, — 6 Factors to turn ANY idea into a
Multi-Million Dollar Business!
(P.S. That's Multi-Million Dollar PROFITS, not just revenue)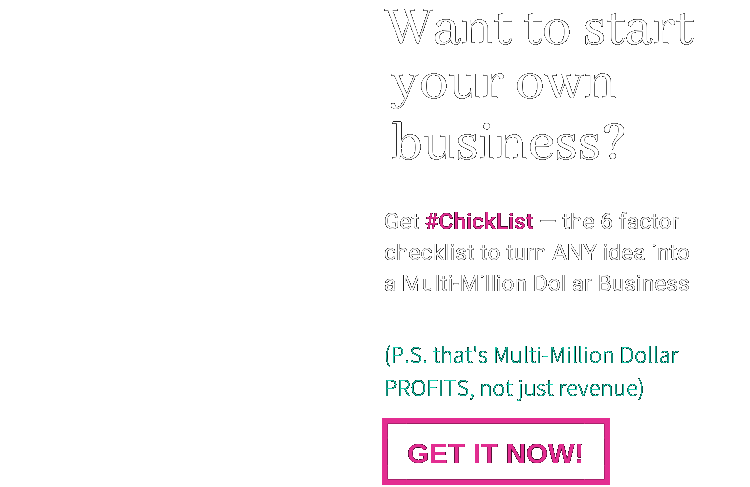 MEET YOUR BUSINESS LAUNCH COACH

Hello! I'm Rachel Greenberg, and I founded Chicks Who Launch™  to help aspiring female entrepreneurs (and all women who want more out of their life than what they get at their 9 to 5) build and launch businesses effectively, efficiently, and most important: AFFORDABLY. I'm the creator of #Zero-to-60, a 60-day online intensive that helps women create & launch their profitable business in 60 days, without spending tens of thousand$ of dollars+ on product and website development, marketing, and advertising.
I've been working with startups for almost 8 years now, and I've helped create and implement marketing strategies, investor pitch decks, and rebranding campaigns that have collectively reached millions of customers, earned > $1 Million+ in funding, and generated tens of millions of dollars in revenue. (A few of them got acquired for 7 and 8 figure valuations in the past few years, and one just got a deal on Shark Tank!) 😀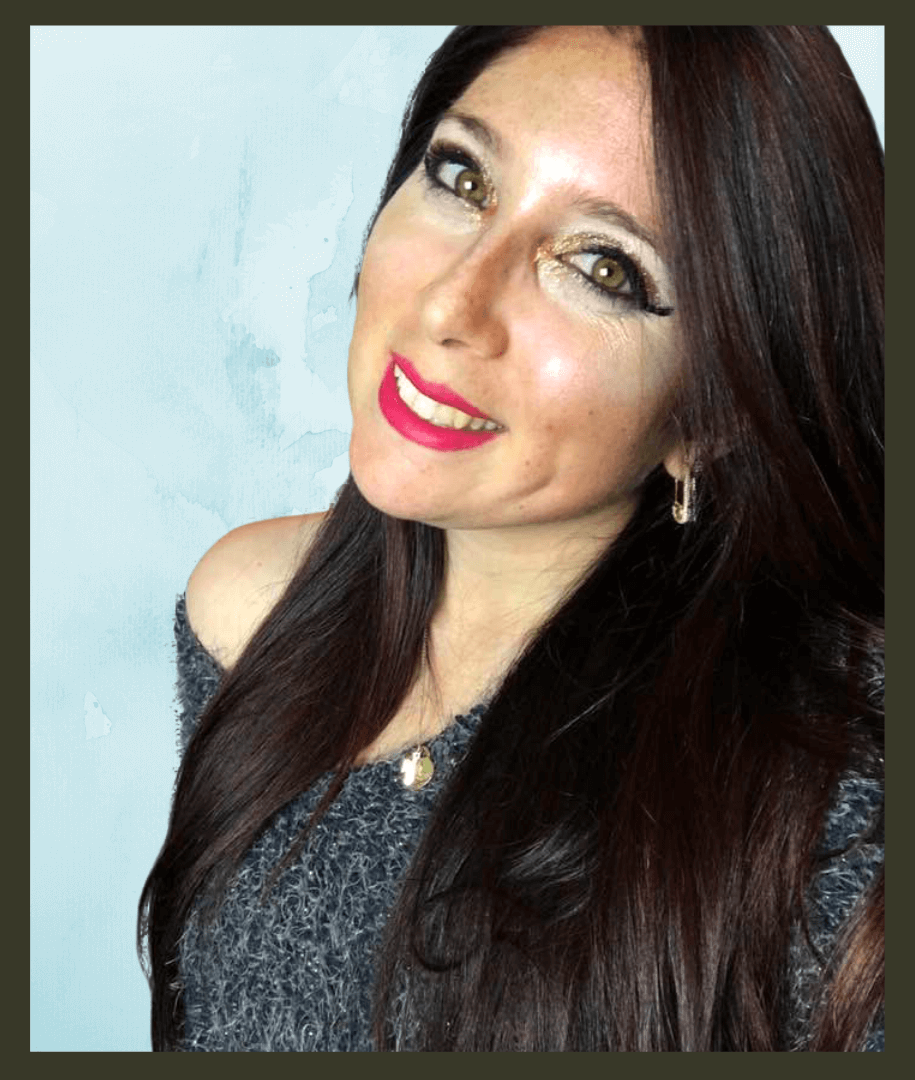 Want my 5 secrets to building companies FAST and launching to IMMEDIATE traction?
REGISTER NOW FOR MY

LIMITED SPOTS in the Free Masterclass!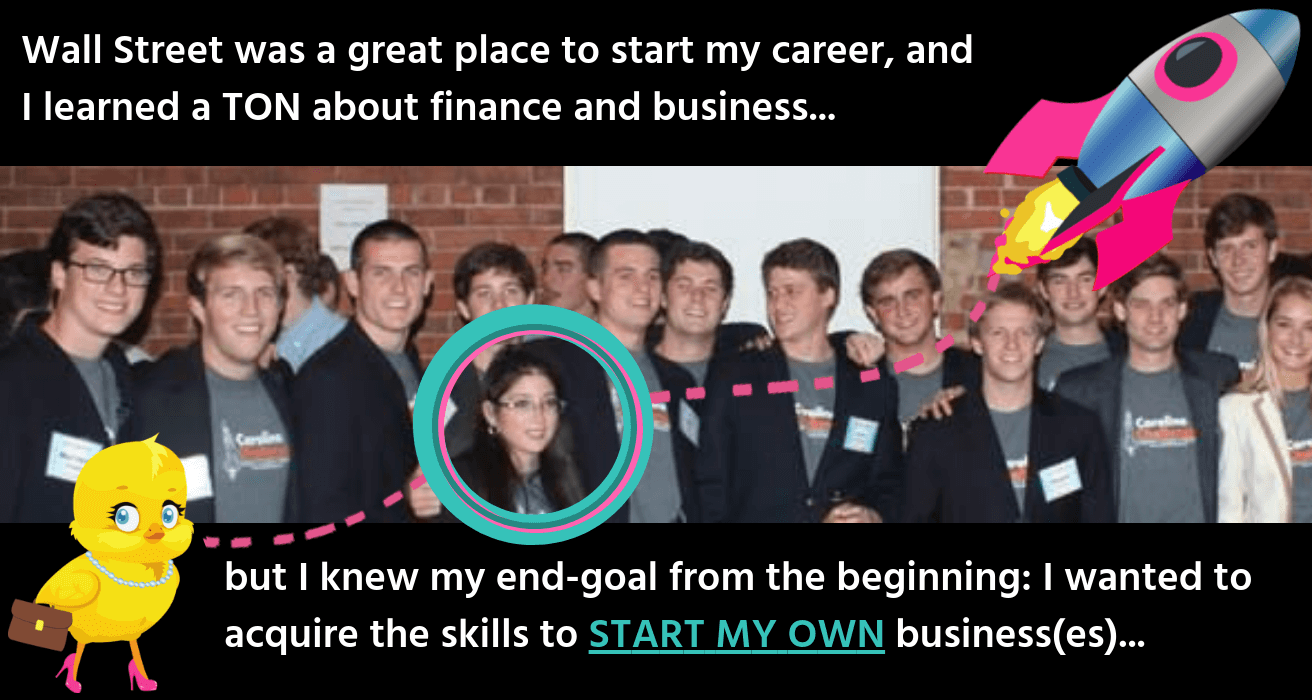 Worked  in asset management and investment banking (Mergers & Acquisitions) for 3 of the biggest Wall Street banks, pitching and selling $100 Million+ companies – and learning everything about them in the process
I've founded 3 different companies in the last 3 years. I've risked my time and money (so you don't have to), but what I've learned is worth SO MUCH MORE than what I've spent. With the resources, tools, and techniques I've found, you'll be able to SAVE $200k+ and BUILD and LAUNCH your company in the NEXT 60 DAYS. Trust me – I've DONE IT. Twice in 1 year.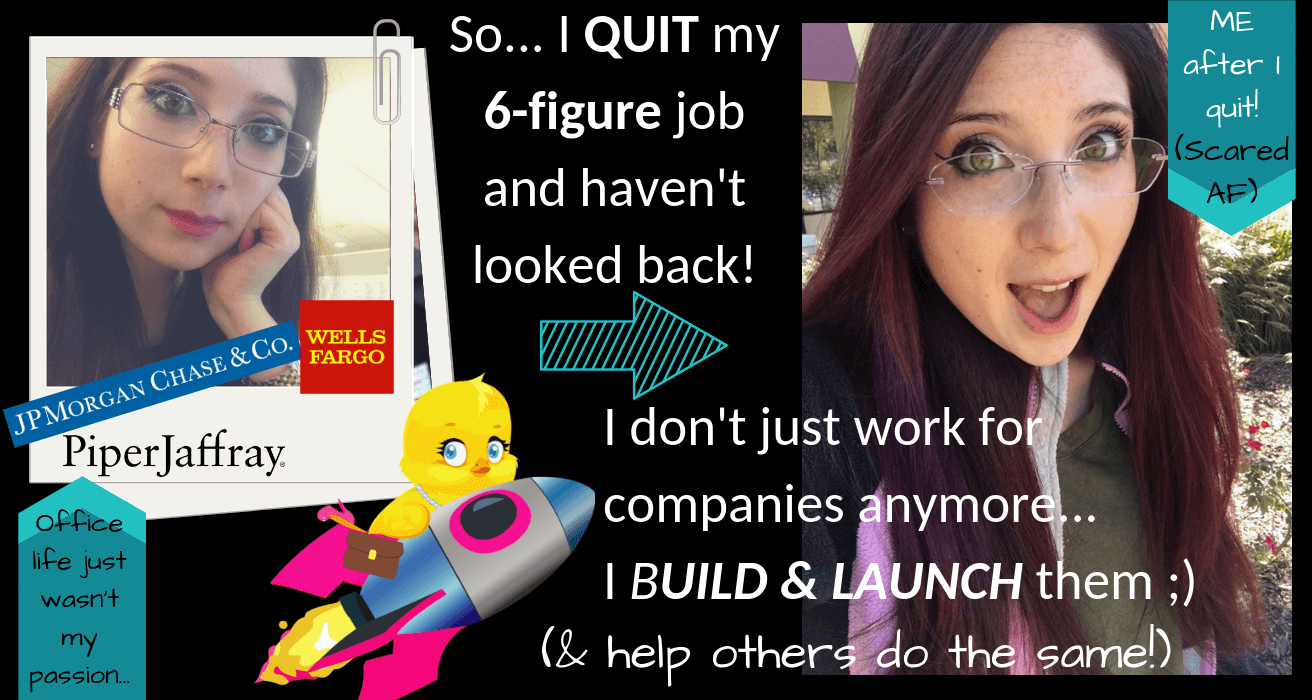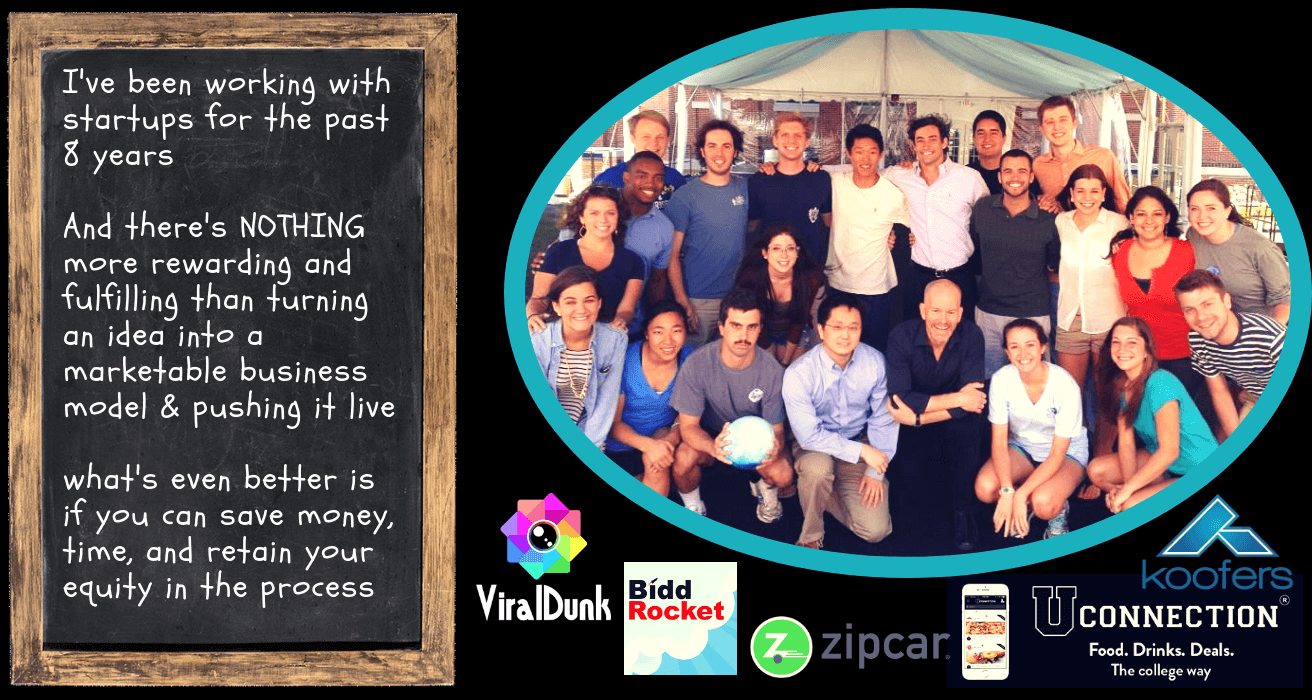 I've advised startups that have expanded internationally, attained hundreds of thousands of dollars in funding, and earned tens of millions of dollars in revenue in just the last 5 years
You don't have to spend tens or hundreds of thousands of dollars to launch a business. You don't have to spend years building & testing…I KNOW – I've done it both ways, and I've learned that the more time and money in DOESN'T guarantee more money out. But I've also discovered tools, techniques, & strategies that DO guarantee MORE MONEY OUT…and they won't take years to put into action. 🙂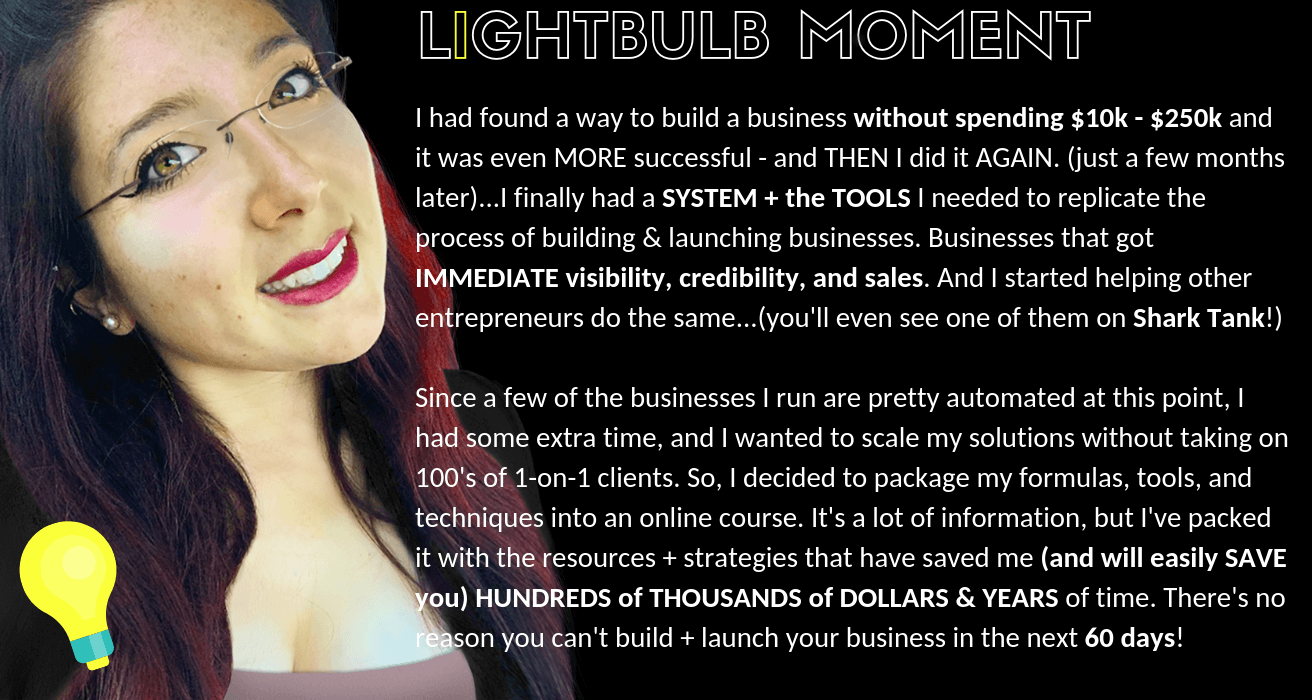 As a female in finance, tech, & startups, I've worked for and with amazing companies. But there's nothing better than building & launching YOUR OWN company. The dream job isn't the one that looks best on a resume – it's the one you LOVE. It's your baby. THAT's why I love launching companies and helping other women do the same!

If you don't love your 9 to 5, why not create the one you DO love?
Want to book me 1:1?
Want my help creating and/or launching your business?
Words from a few startups I've worked with, ranging from 2011 to 2018…
(Of these companies, the only one to IPO and reach a $1 BILLION+ Valuation at its peak is ZipCar – and it's the only one founded by a woman…Just saying, there may be more men in the startup space, but among women, there's way more untapped potential.)




Maybe you're afraid you'll have to spend tens of thousands of dollars. Maybe you think it'll take years to get anything off the ground. Or maybe you're just worried you'll put your time and money into something that may just FLOP. And then what? You're out the time and money – and for what? Right? Let me tell you, I was there. Until I realized this ONE thing. Then everything changed.

There IS a such thing as a bulletproof business plan. There IS a way to ensure immediate customer interest and traction. And there is a way to create and launch all of this in the next 60 days without spending your life savings on product/website development and launch marketing.
I promise. I've done it both ways, and my most profitable businesses are the ones I built and launched in a matter of months, NOT YEARS. (And the one I spent $200k+ on – that one's still in beta, while the others had thousands of site hits and customers from DAY 1 of launch.)
If you want to know how, watch my FREE #ZeroTo60 masterclass:
LIMITED SPOTS in the Free Masterclass!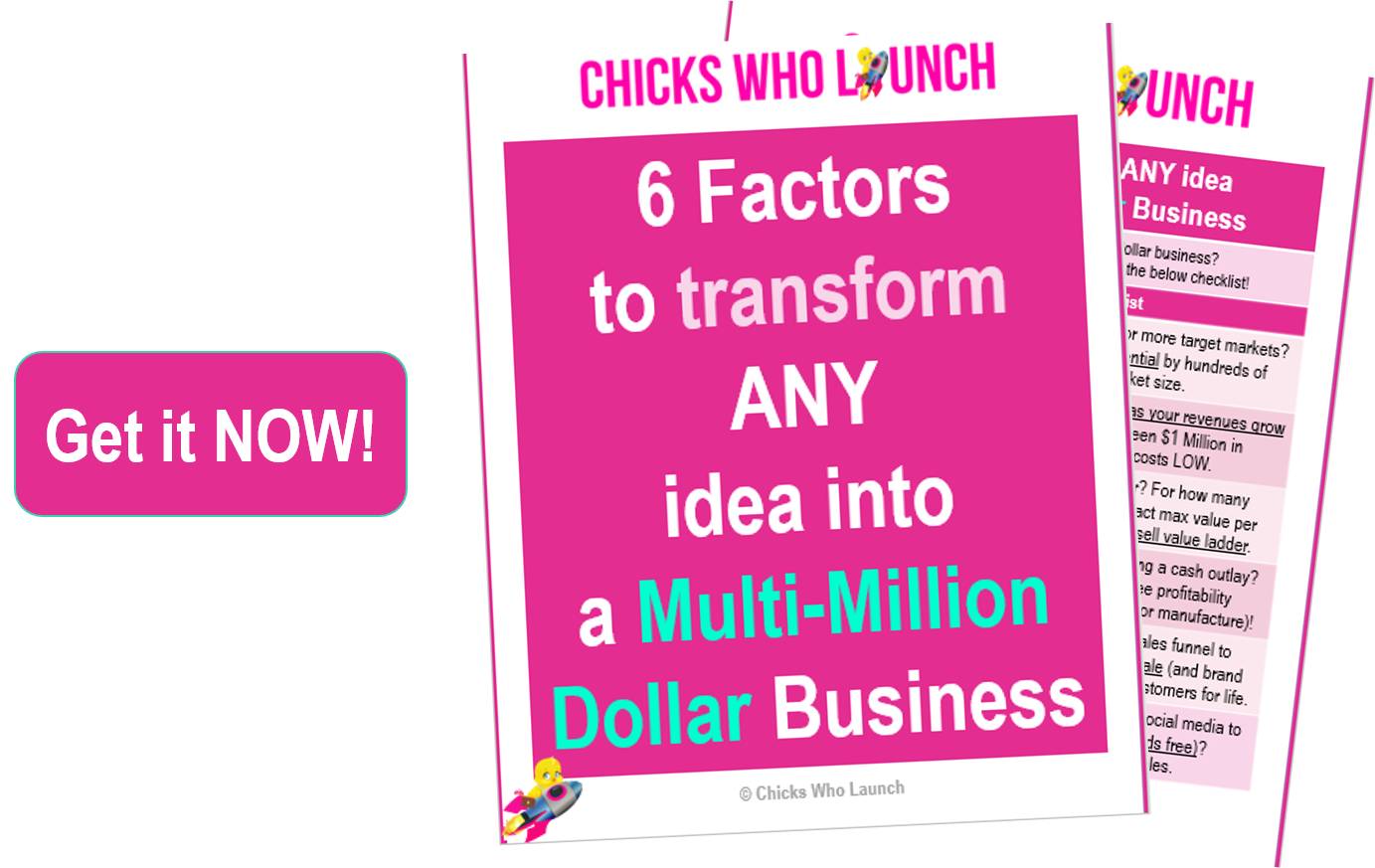 Get
#ChickList

:
(6 Factors to turn an idea into 7-Figures)

Get the tools to turn any idea (or passion or side hobby) into a multi-million dollar business without any investors, partners, or spending thousands of dollars on hiring, advertising, and manufacturing! Get #ChickList – it's FREE!